The Honda Gold Wing: What's New for 2022?
The inclusion of throttle by wire paves the way for four riding modes and Honda Selectable Torque Control (HSTC). Getting under the skin of the Wing also reveals the latest generation aluminium die-cast frame.
With suspension upgrades, courtesy of the double-wishbone front suspension, the 13-lb lighter engine is moved forward. This procedure increases rider and passenger comfort and improves steering.
For 2022, Honda's grand tourer is available in four models. Starting with the base model, the Gold Wing Automatic DCT transitions from manual to DCT, Honda's legendary 7-speed auto dual-clutch transmission. This model is available in Matte Nightshade Blue and features contrasting red engine detailing.
Next is the Gold Wing Tour. This model is the only one in the Gold Wing lineup to offer a 6-speed manual-shift gearbox. In addition, the Tour is available in Ultra Blue Metallic and Metallic Black.
The third is the Gold Wing Tour Automatic DCT. This model has the same specification as the manual Tour but has a DCT 7-speed auto gearbox as standard. This model is also available in Blue and Black Metal Flake.
Last is the top of the range Gold Wing Tour Airbag Automatic DCT. As the name suggests, you get Honda's game-changing dual-clutch auto gearbox and the ultimate in rider safety; an airbag. For 2022, this model is available in Ultra Blue Metallic.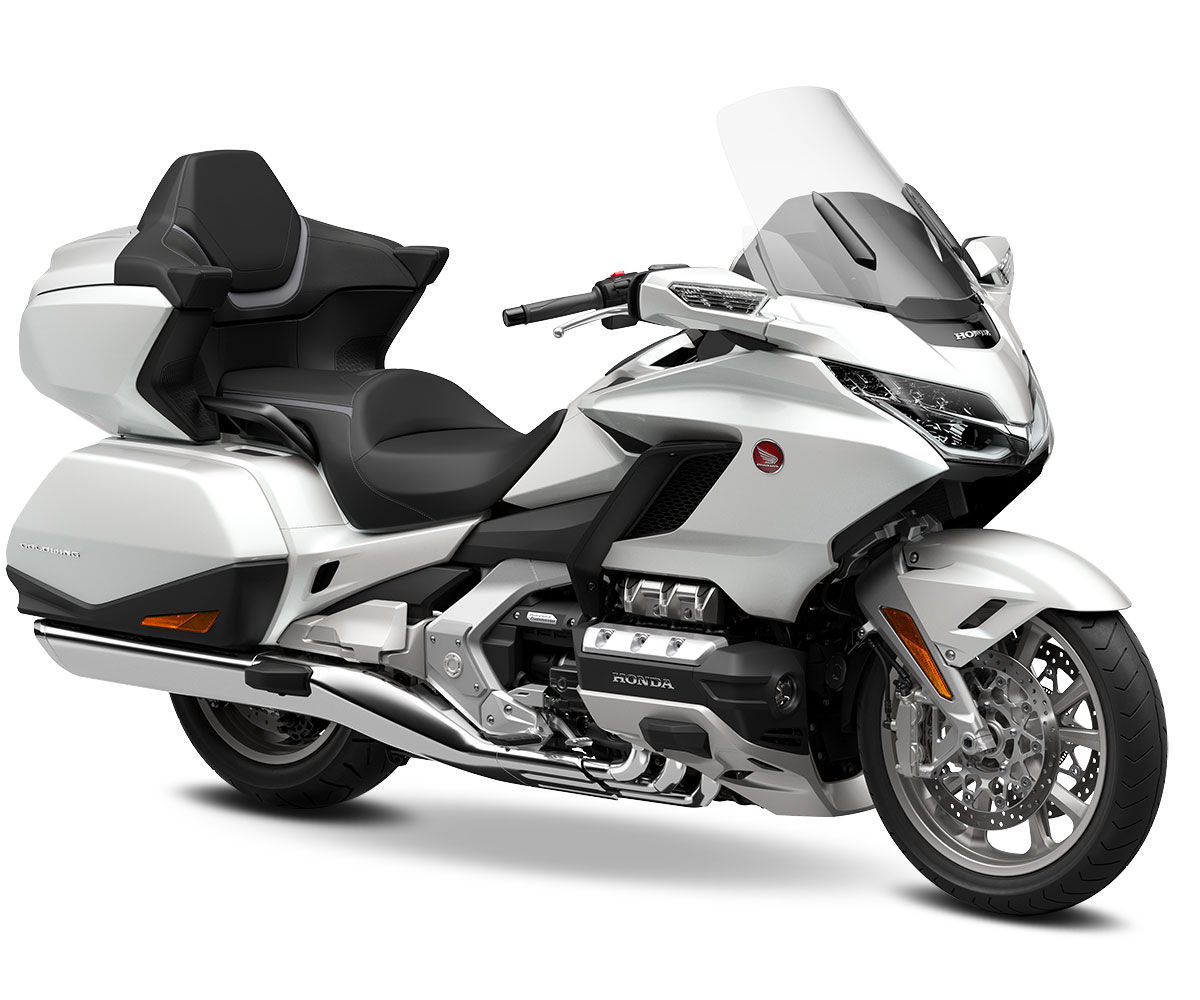 Mission Impossible? Not for the Gold Wing
Honda's reputation for quality and reliability is legendary but they are also technological innovators. For example, in 1969, the CB750 shocked the world as the first mass-produced motorcycle to feature four cylinders, a disc brake and an electric start.
In 1975, the Gold Wing GL1000 continued expanding motorcycle boundaries and is still riding at full throttle today. From creating groundbreaking rider enhancing features to designing the new technology needed to make it happen, the Honda Gold Wing has and always will lead the way.
The Gold Wing has evolved from a naked 1000cc flat-four to an 1800cc 6-cylinder, fully-faired grand tourer. It is now the final word in motorcycle touring luxury.
The new Gold Wing's DCT auto transmission, radical suspension, electronic rider aids and infotainment centre all combine to create a touring motorcycle at the top of its game.
At every stage of its 47-year evolution, the Gold Wing has provided an unparalleled riding experience. Thanks to Honda's "if it doesn't exist, create it" philosophy, motorcycle touring has reached new heights previously believed impossible.